Timing is Everything
Great photos take time! The key to amazing photos is a wedding day planning schedule. The more time I have to take photos, the better they will be. I can finesse the details of a photograph like making sure everyone is posed well, the composition looks good, the lighting is flattering. I can engage with you to get natural smiles and reactions.
Everything will take longer than you think
You should enjoy every second of your wedding day because it's truly an amazing day. Nothing will spoil the day like stressing about being late. Ideally, I like to start taking photos early (if you are doing a first look) and have plenty of time to chill out before the ceremony.
There is a huge difference of the mood of the wedding day when we have allowed enough time for photos. We can relax and have fun taking photos. I get better photos because I have time to work with you. If we are stressing over time, it will be reflected in the photos.
The Adventure Begins
What should I wear while I'm getting ready?
Beautiful photos are all in the details. Wear something cute to get ready, like a silk robe or similar. If you are sporting a spaghetti stained t-shirt, you will not want these photos in the album.
Location matters
Select a place that will photograph well. Hotels are decorated beautifully and usually have large windows that provide natural light.
Getting ready at home
Do a little prep work for the best images. Select the room with the best light and get cleaning. Nothing looks worse in photos than clutter. I will do my best to tidy up, but that's time I won't be photographing.
TIP – Before you get into your dress, make sure your bridesmaids & parents are dressed first. The photos will be much more beautiful with everyone dressed in their wedding attire while helping you into your dress.
The Little Details & Fancy Stuff
Real moments are definitely the best part of the wedding day. But it's important to get some fun detail shots. These are always the first images I take on the wedding day. You spent a lot of time selecting all the little details of your wedding, so they should be remembered!
TIP – Have your details ready to be photographed. Details include an invitation/save-the-date card, shoes, jewels, rings and the dress of course!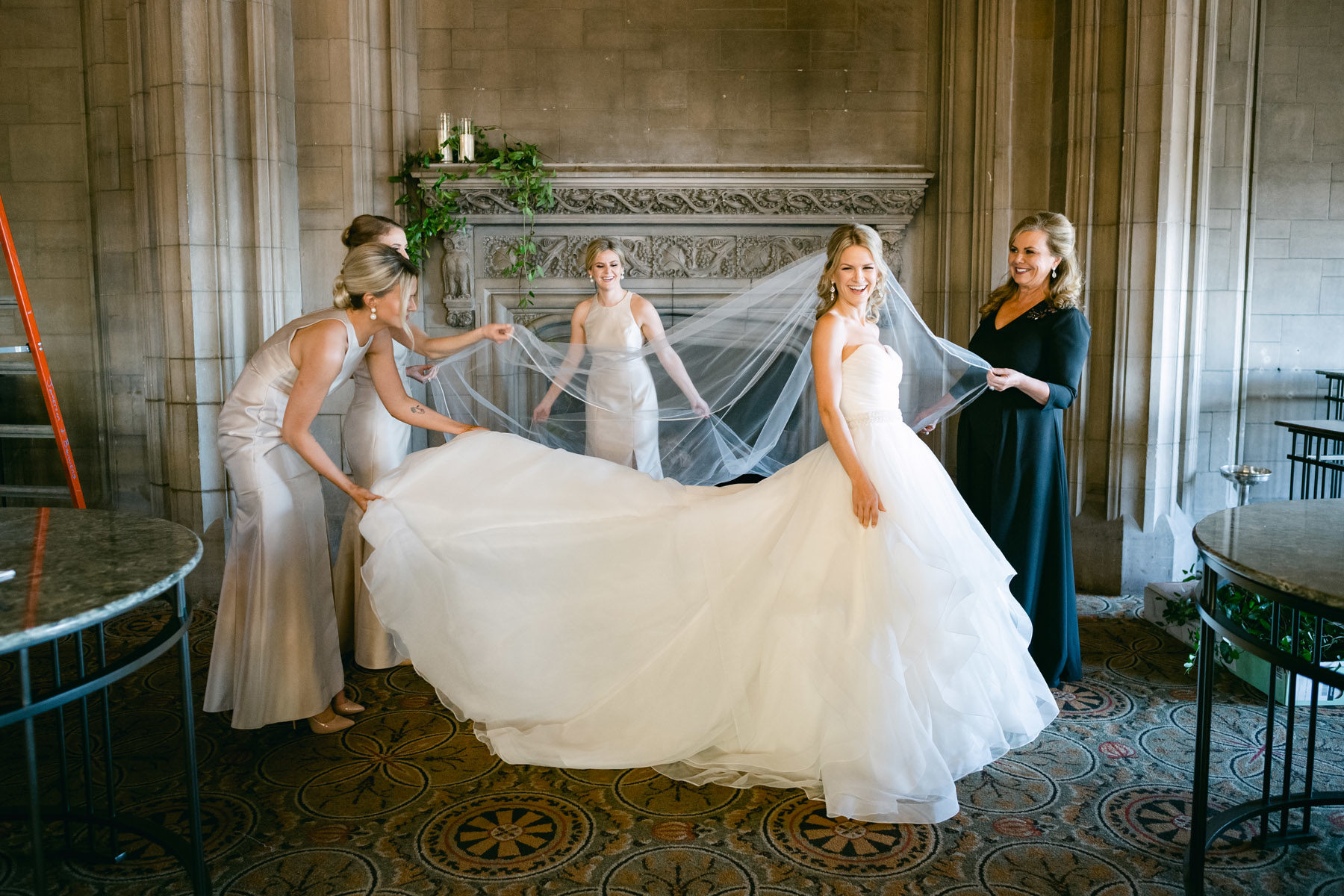 My Favorite Moments
One of my favorite moments of a wedding day is when couples exchange cards and gifts. The most thoughtful gift I have ever seen a bride receive is from Alex to his bride Vanessa. Alex spent the year before their wedding creating a journal of all the little things they did together to plan the wedding. She had no idea he was doing this. She opened it on the morning of their wedding and needless to say, there were tears!
TIP – Wait until you are dressed to read letters. It makes for such a beautiful moment of the day and so much prettier when you are all dressed.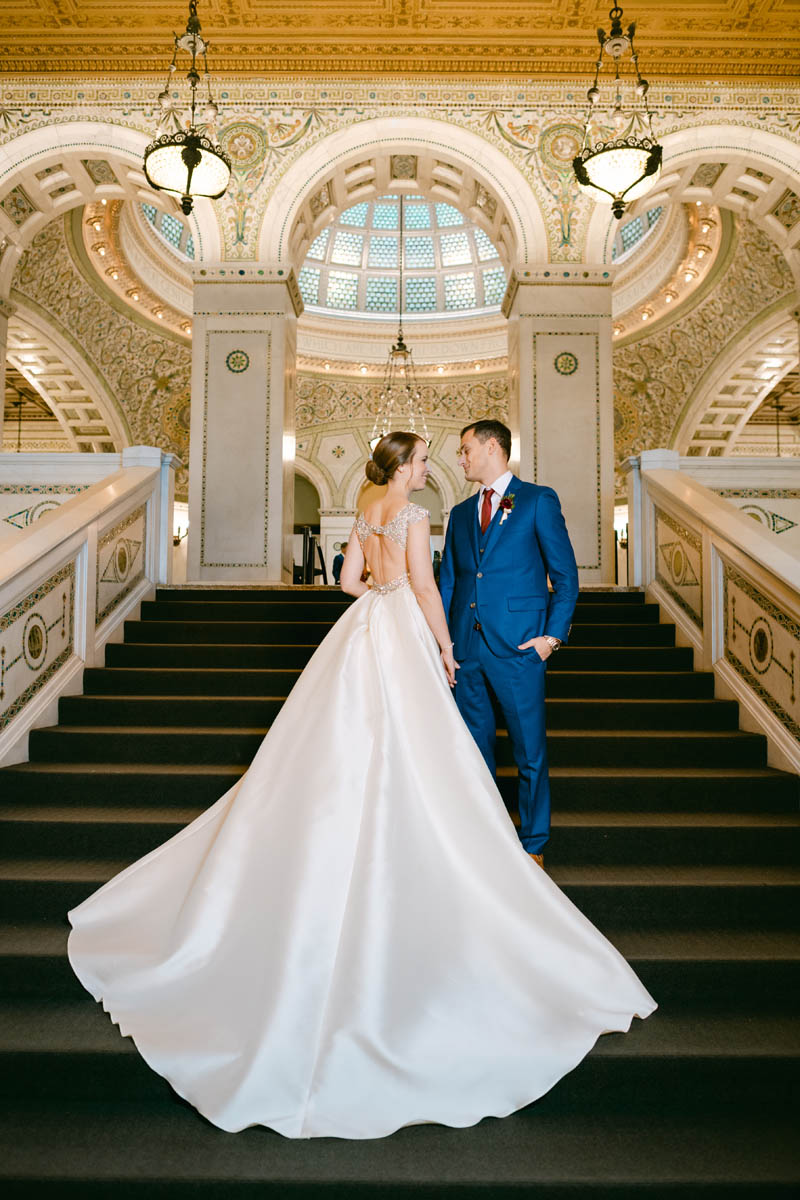 All You Need is Love & Planning
Work with your photographer to have a solid schedule in place before the wedding. Plan the spots you would like to shoot and create a detailed schedule. Also have a backup plan in place in case of unfortunate weather.
The more time I have to shoot the photos, the better they will be. I can finesse all of the little elements that make an image wonderful, like genuine emotion. It takes time for me to work with a couple and get you to be in the moment having fun.
An ideal estimate for timing is 2.5 hours for bride/groom and bridal party photos around town. We'll be able to go to 2-3 different spots for photos so you are getting a variety of images.
TIP – Make one to two stops for bridal party photos and then let the bridal party chill out on the trolley. They won't care about photos as much as you, so let them have some fun!
Trust Me, I Call the Shots
Trust your photographer! A great photographer will know how to shoot in any lighting condition. When shooting outdoors, we have to work with the sun and make snap decisions about how to shoot to get the most beautiful, flattering image. Your photography has a vision to create the most beautiful photographs.
TIP – For the best images, try to forget about the photographer. Laugh, smile and have fun! I guide my couples with prompts to make them live in the moment and lose any awkwardness. Genuine smiles are always beautiful!
Laugh, Love & Enjoy Every Moment
I know you've heard it before, but your wedding day goes by so fast. Months and years of planning fly by so fast. Enjoy every little moment. You don't want to look back on your wedding memories and think about how you stressed over this detail or that one. In the end, the details don't matter. It's the tearful moments with your mom as you put on your dress. That feeling of finally walking down the aisle to the love of your life as your Dad gives you away. Saying your vows as you start the most amazing journey of your life together. These are the moments that matter.