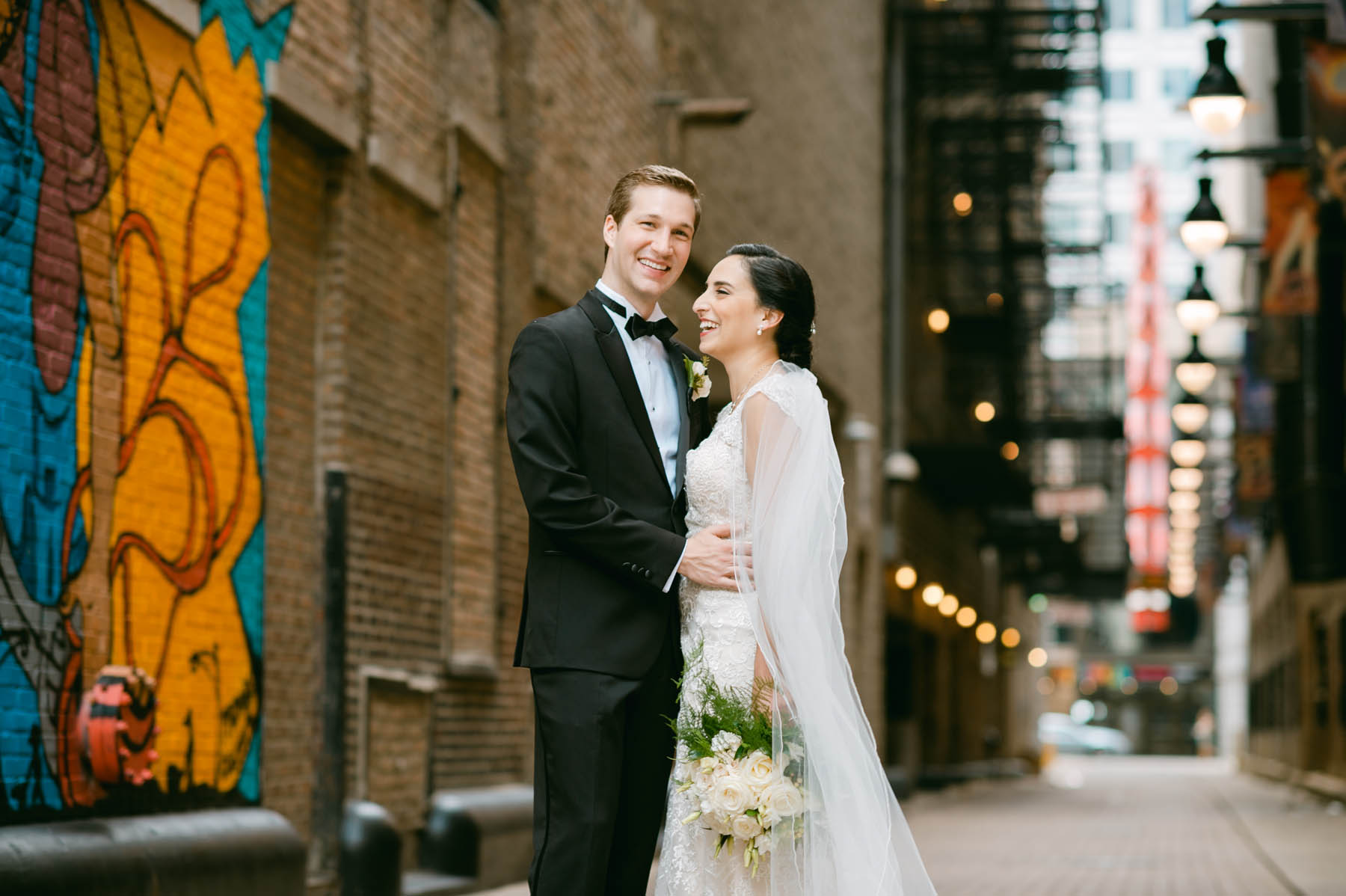 Dina + Andrew's Knickerbocker Hotel wedding was elegant, fun, and full of amazing moments.
"Since the very first day they met, they find each other hilarious."
While Andrew got ready with his best man for his Knickerbocker Hotel wedding, Dina prepped with her family and friends at an amazing brownstone nearby. Dina's stunning lace dress was the perfect compliment for her timeless beauty. Their first look was at the park near the Drake hotel. Andrew + Dina don't take themselves too seriously and laugh together continuously.
The both attended the University of Georgia, but they never met while they were there. Because they are so perfect for each other, they were destined to meet. Dina moved to Chicago and played Chicago host to her good friends when they were new to the city. They invited Dina out for dinner and brought along their only other friend in Chicago, Andrew. Their chemistry was obviously from that first meeting at Crosby Kitchen, but they stayed friends for a while. I'm guessing Andrew had crush on Dina instantly because he offered to hang her drapes and cook her dinner. What "friend" would do that unless he was smitten?
"It is astounding what a good fit Dina is for Andrew. Astounding. They compliment each other in so many ways and I know how happy Andrew is that he's found Dina. Dina, you are beautiful. You're brilliant. You are driven, but your humble. And you are practical, but you're goofy. Andrew, you're goofy, man."
"I'm never going to be able to top the speech that Andrew gave for me because it was mostly just a cappella shoe tunes from Rent and Phantom of the Opera. We met as first and second string quarterbacks on the football team. That was the name we gave for the last two chairs of the trumpet section in concert band."
When they arrived for their Knickerbocker Hotel wedding, they were ready for some fun! They enjoyed a private moment in the balcony before joining their guests for cocktail hour. Dina's maid of honor toasted the happy couple. "I had not heard Dina talk, so I thought she may be a foreign exchange student. But don't worry, I quickly learned Dina can talk and in fact we talked everyday for the rest of high school." As well as the man responsible for bringing them together, Andrew's best man.
True to his nature, Andrew and his mom had some fun with their first dance. They started dancing to a slow boring song and with a record skid from the DJ, they jammed out! They played a combo of arabic dance songs and the trending music. To get the guests really pumped, his arabic drummer got out on the dance floor and jammed out while the guests danced around him. The Knickerbocker Hotel wedding has an illuminated dance floor that adds to the magical ambiance.
Reception - Millennium Knickerbocker Chicago | Ceremony - First United Methodist Church